Good morning beautiful W3,
I know it can be hard to even contemplate … "what?! celebrate?! seriously?!"
Yes. Seriously.
I am not embarrassed to admit that the news about Vegas knocked me down for a minute. On the heels of so much more before it … I HAD to go undercover for a minute or two. Meaning literally … under cover(s) with comforters and pillows and tea – to get my own energy straight.
I needed to grieve – for so many people – for so many things.
I needed to find a way to start healing so that my time of being "inactive" would be short.
I needed to cut myself off from the barrage of sights and sounds – including the "responses" from "leaders" (and I use quotation marks around both of those words purposely and consciously) that were beyond enraging … but sickening. Yep … I needed to do all that.
And I needed to listen. To the silence. To the whispers. To the messages that were coming from different places than Facebook and television. And one by one, windows were opening W3 – windows to hope.
Which brings us to the celebration.  I am going to share with you 3 things that happened that give me cause for celebration AND hope.
1. I was selected as a contributor for Novica – in association with National Geographic and Unicef Market. Both organizations with strong global vision and mission to extend similar messages as us here at Wild and Wise, and both with a calling centered in giving, contribution, kindness and love.
This is the answer, I believe, to my call to the Universe to "Return Louder Than Ever".
2. Wild and Wise Sisterhood Gift Box has been listed in a Buzzfeed Article (as #1 I might add) 😉 about the Top Women's Subscription Boxes.  To be side by side with companies who have really rocked their subscription box was again, a reinforcement that we are amongst giants and we too are powerful. xo
This is the answer, I believe, to my call to the Universe while under those comforters to restore my hope, restore my faith, strengthen my resolve to come back stronger than ever knowing that our subscription gift box, and the message of Wild and Wise Sisterhood is one deeply needed in the world today.
I hope you are joining the Sisterhood with us.
We have one week left before the first box begins preparation for shipping. It's a GREAT first box!  I don't want you to miss it!
3. Did you see Mel's unboxing video? (Mel Robbins that is …) or her awesome shoutouts to Wild and Wise Sisterhood?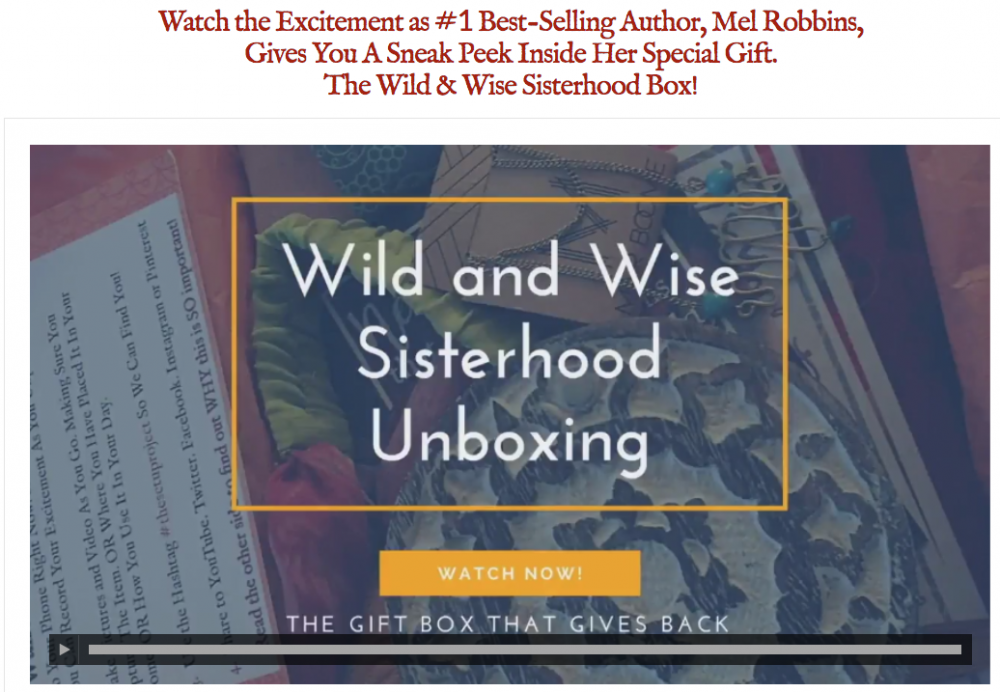 Then you know that one of the things she said is that the Wild and Wise Sisterhood gift box is her new GO-TO for corporate gifts and birthdays! Since that time we have created a division solely dedicated to just that! So if you would like to explore how you could incorporate this gift box into your company (with options for men AND women!) reach out to us and let's talk!
We truly do have limited 'corporate' partners that we can collaborate with this season due to inventory and the ability to ship it all out in time and keep OUR customer care standards beyond your expectations, BUT we would love for one of them to be YOU. Whether you need 10 or 500 … we would love to chat!
Email me personally for this limited time opportunity (limited time because the holidays are closer than I like to think about) at [email protected] and we will connect with you within 24 hours.
This is the answer, I believe, to my call to the Universe to ask … "how can we share the message of giving, love, kindness, and connection farther, wider, stronger?"
So there you have it W3 – my reasons to celebrate today. I hope you'll join us – whether as a subscriber yourself to the Sisterhood Gift Box, whether you would like to share it within and as an extension of your organization, or whether you would just like to share the opportunity with someone else. Let's spread this message W3! Goodness knows I can't do it without you!
Now YOU … what will you celebrate today? What call to the Universe might you make and what is the whisper or the poke that comes back to you? If you still in grieving, in healing, in silence … all that is ok too. We will wait for you AND we are here for you to lean on.
Let's talk in the Facebook Discussion Group.
PS. I can't say this often enough or loud enough. Join US in the Wild and Wise Sisterhood. Not only do you receive a beautiful present filled to the brim with gifts from me every 3 months … but you also will work with me in live group coaching / workshop sessions every single month!
And yes, 3 months of coaching AND the gift box for $99 ($89 if you use the promo code)  They didn't mention THAT in the article ...